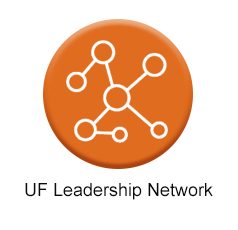 University of Florida Leadership Network (UFLN)
The University of Florida Leadership Network (UFLN) is a forum for faculty and professional leaders who have completed UF's leadership development programs. The network supports its members' continued exploration of leadership issues while providing opportunities for networking and collaboration.
The UFLN holds approximately three events per calendar year. Participation in these events is by invitation only and is limited to network members-individuals who have completed UF's leadership development programs including:
The UFLN currently has over 300 members.
---
Upcoming UFLN Events (By Invitation)
---
Immunity to Change
The status quo is potent. As leaders we often see people who fail to make changes that they know would improve their success; and we see ourselves fail in the same way. How can we make the changes we know we want, but never seem able to achieve?
UF Leadership Network member Mark Jamison, along with Araceli Castaneda, of the Public Utility Research Center (PURC) will lead this transformational session based on the book Immunity to Change exclusively for members of the UFLN.
This workshop will engage you in an exercise to reveal the hidden stories you tell yourself—and that people in your organization tell themselves—to create a natural but powerful immunity to change. Experiencing how this mechanism holds you back personally will help you recognize it at work in your organization. You will identify the strategies needed for unlocking your own potential, as well as that of the organization you lead, and finally move forward!
When:
Thursday, August 2, 2018
3:00 – 4:30 p.m.
Where:
IFAS Straughn Center
If you have questions, please contact UF Training and Organizational Development via email, or call (352) 392-4626.
Past Events
Conflict Competent Leadership
In response to expressed interest from summer reading group participants, the UFLN will host Craig Runde for a presentation and skill-building session on Conflict Competent Leadership on Wednesday, March 21st from 10:00 am – 12:00 noon at the IFAS Straughn Center. Mr. Runde will kick-off the session with an overview of conflict competence after which participants will gather in small groups to practice skills in managing emotions and perspective-taking. This will be followed by a Q&A period.
Developing UF's Culture of Performance Engagement
On October 11, 2017, UFLN members examined culture change with respect to performance engagement at UF using Connors and Smith's Change the Culture, Change the Game model. Small-group discussions were followed by a large-group debrief; members continued informal discussions during the network and socializing portion of the event.
Conflict Competent Leadership
During summer 2017, the UFLN held two reading and discussion groups for Craig E. Runde and Tim A. Flanagan's article on Conflict Competent Leadership. The University Auditorium's Friends of Music room provided a perfect setting for rich discussions.
Implicit Bias: Leadership Implications
Dr. Kate Ratliff, Assistant Professor, Department of Psychology and Executive Director of Project Implicit addressed the UFLN on Wednesday, March 29, 2017. Her presentation was followed by small group discussions on how implicit bias influences our thinking, actions and decision-making at work and how to reduce its impact in the future. After Dr. Ratliff's presentation, UFLN members stayed for networking and socializing.
Ideas into Practice

Ideas into Practice March 16, 2016 from 3:00 – 6:00 pm at the IFAS Straughn Center.

Negotiation Skills

On October 12, 2015, Dr. Judith Callahan, of the Department of Management at the Warrington College of Business, presented an overview on the nature of negotiations and how we use negotiation skills in our everyday interactions. Following individual case-study preparation and negotiation in pairs, participants benefited from Dr. Callahan's review of each dyad's approach and outcome. Crisp, fall weather welcomed UFLN members to outdoor conversation and hors d'oeuvres during the informal networking part of the event.

Talent, Trust, Vision, Alignment
The UF Leadership Model Competencies: Drivers to Excellence

For this event, UFLN members were asked to prepare in advance by visiting our Leadership Toolkit and reviewing one of the resources available in each of the four UF Leadership/Management Competency Model quadrants. These quadrants are: Build Trust, Create and Communicate Vision, Generate Alignment and Cultivate Talent. The selected resources provided food for thought to initiate small group discussions which addressed each quadrant's objective. Participants sat at different tables midway through the session, thereby interacting with other members.

Following the discussions, UFLN members networked while enjoying a delicious catered lunch.

January 27, 2015 Panel Discussion: Perspectives on Strategy, Change, Culture and Accountability
The panel discussion featured College of Nursing Dean Anna McDaniel, Vice President for Research David P. Norton, and Vice President for Business Affairs Curtis Reynolds. These three distinguished UF leaders presented their views on identifying and addressing strategic priorities; initiating and supporting change; observing and affecting culture; and developing relationships and influence to nurture accountability. UFLN members were invited to ask questions following the presentations. Finally, an hors d'oeuvres reception offered panelists and UFLN members an opportunity to interact informally and network professionally.
March 17, 2014 Kick-Off

The UF Leadership Network kick-off session was held on March 17, 2014. Attendance was to capacity with 50 members present.Participants watched two TED Talks, each lasting approximately 15 minutes, after each of which they discussed a list of questions to pursue reactions and experiences related to the topics both in small clusters and with the group at large. The TED Talks were: Kathryn Schultz: On being wrong and Shawn Anchor: The happy secret to better work. The formal discussions were followed by an opportunity to informally network and socialize during a cocktail hour.

July 2014 Book Group Discussions

Two book group sessions were held in the summer of 2014 to discuss the title Leadership Without Excuses: How to Create Accountability and High-Performance (Instead of Just Talking About It) by Jeff Grimshaw and Gregg Baron. These sessions were limited to 15 participants which allowed for rich conversations also guided by facilitated questions on some of the main concepts of the book and how they applied to leading at UF.
---
Submit UFLN Event Ideas
Is there something you would like the UFLN to provide that would support your growth as a UF leader and our university's quest for excellence? Let us know! Contact Irma Alvarez at imalvarez@ufl.edu.
Participants