Advanced Leadership for Academics and Professionals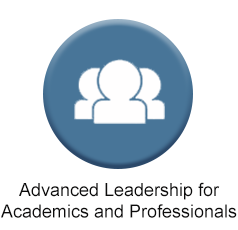 Please note:
Applications are currently closed
For more than a decade ALAP has provided UF faculty and staff with a comprehensive opportunity to accelerate their learning and growth as leaders. Over the next academic year, we will not offer the Advanced Leadership program in our normal fashion. Instead, we will be engaging ALAP alumni in a review of the Advanced Leadership curriculum along with the introduction of new content as a way of both providing further leadership development opportunities for program alumni and also refining the program's content and approach for future years.
Participants are selected via a competitive applicant process
Designed in cooperation with UF's Office of the Provost, Faculty Senate, and Human Resource Services, this leadership program is for UF academic and professional leaders who wish to further explore and develop their leadership skills.
Offering two tracks—one for academic leaders and the other for professional staff—the program is based on leadership competencies specifically identified as being important for success at UF. (Our Competency Model was developed based on interviews and focus groups with successful UF leaders.)  Program participants attend certain activities within their tracks; at other times, the tracks come together to explore leadership development issues. Participants are selected via a competitive application process.
Eligibility
To be considered for the Academic Track, the applicant must be a UF faculty member in a leadership role. To be considered for the Professional Track, the applicant must be in a TEAMS position at the assistant director level or above.
Useful for academics and professionals who are interested in:
Developing skills and tools to more effectively manage and lead people, including individual 360-degree assessments pre- and post-completion of the program.
Furthering the programs of their division, department, and college through a better understanding of both strategic and operational issues within the university.
Helping move a strategic agenda forward while helping others meet their goals.
Curriculum Highlights
"Leadership:  Great Leaders, Great Teams, Great Results," Franklin-Covey, includes individual 360-degree assessments pre- and post-completion of the program.  This provides a framework for understanding excellence in leadership generally, with feedback about "current state" of one's own performance.
Leadership competencies used as structure, based on what's most important for leadership success at UF.
Invited program facilitators/guest speakers are correlated with key competencies and are drawn from the University of Florida as well as from other appropriate institutions.
As appropriate, key leadership challenges presented as case studies—some focusing on academic issues; others, on professional.
Selected readings take into account academic or professional perspectives.
A team project that focuses on areas of concern for the institution to further challenge the participants to move from strong individual contributors to ones who can collaborate and solve problems as team members on behalf of the institution.
Job shadowing of appropriate UF leaders.
Fee to participate
This year, the fee to participate is $1,500.  All materials (including a 360-degree evaluation pre- and post-program), facilitation fees, and meals are included with no travel needed for those who live and work in Gainesville.
Selection Committee
Frank Bova

Past Chair, UF Faculty Senate

Jodi Gentry

Vice President for Human Resource Services

Chris Hass

Associate Provost

Diane McFarlin

Dean, College of Journalism and Communications

Elaine Turner

Dean, College of Agricultural and Life Sciences
Participant Comments
"The ALAP program was undoubtedly the best professional development experience I've ever had. The materials are thorough and useful, and the curriculum as a whole gave me the skills and the confidence I needed to continue honing my management and my leadership styles. But the experience was so much more than just the materials… It was exploring other aspects and areas of the university, it was learning from others and sharing their experiences and practices, and benefitting from the leaders' and guests' vast knowledge and insight. We developed a strong cohort, in fact I am still in regular contact with a good number of the other participants from my year. And it seems that any time a new project or opportunity comes up, it turns out that I already know someone in whatever area I need, all thanks to my ALAP connections. I would recommend ALAP to any and all members of the UF community who are in a leadership position. It is a time commitment, but you definitely get back far more than what you put in. My only regret was waiting so long to participate in the program!"

—Gillian Lord, Professor and Chair, Dept. of Spanish & Portuguese Studies
"ALAP was a great experience for me; it provided both invaluable networking opportunities as well as top-notch leadership training.  The instructors of the course, in consultation with UF leadership, have determined the specific competencies needed to excel and thrive at UF. These core competencies are also applicative to so many everyday experiences that you'll find yourself using them in all kinds of situations.  The program was instrumental in helping me move into higher leadership roles at UF.  I can't recommend this program highly enough; the time commitment was well worth it!"

—David Reed, Associate Provost for Faculty Honors and Awards and Associate Director, Research & Collections, Florida Museum of Natural History
"I found the benefits to ALAP to be threefold. First the content was tailored well for all of us in both the academic and professional tracks. We covered very practical leadership and management material, and the stage was set for us to apply what we learned in higher education and at UF specifically. Second, the program had a very cool retreat feel to it. It gave us the time and space to step out of our day-to-day mindsets and examine our own leadership carefully. Third, I treasure the relationships I built with other participants and speakers from all over UF. We worked hard, laughed all the time, and came away from the experience with a much better understanding of all the diverse roles people play to make this giant university work … Or maybe I should say the benefits were four-fold—the food was fantastic too!"

—Tom Kelleher, Tom Kelleher, Professor and Chair, Department of Advertising, College of Journalism and Communications
"I went into ALAP unsure of what to expect from this significant commitment of time and energy. Would I become better at managing my team? Would I become better at difficult employee conversations? Would I become better at writing a business plan? Yes, yes, and yes – but so much more. I learned that being a leader is not simply about being a better supervisor, but about bringing leadership skills to every aspect of my job, whether as the head of a group or a member of a group, in advising and coaching colleagues in my area of expertise, in providing vision within my department and the organization, in making every interaction productive and beneficial for other people, for me, and for the institution.

Whatever you think you might gain from participating in ALAP, I promise it will be more than what you expect."

— Susan G. Goffman, Executive Director, Legal Services, UF Advancement