Program Schedule Program Faculty EligibilityProgram Cost Program Application
A communications course to help you:
Gain skills and understanding to communicate your research beyond the lab
Overcome complexity and uncertainty and  improve understanding 
Establish influence in your field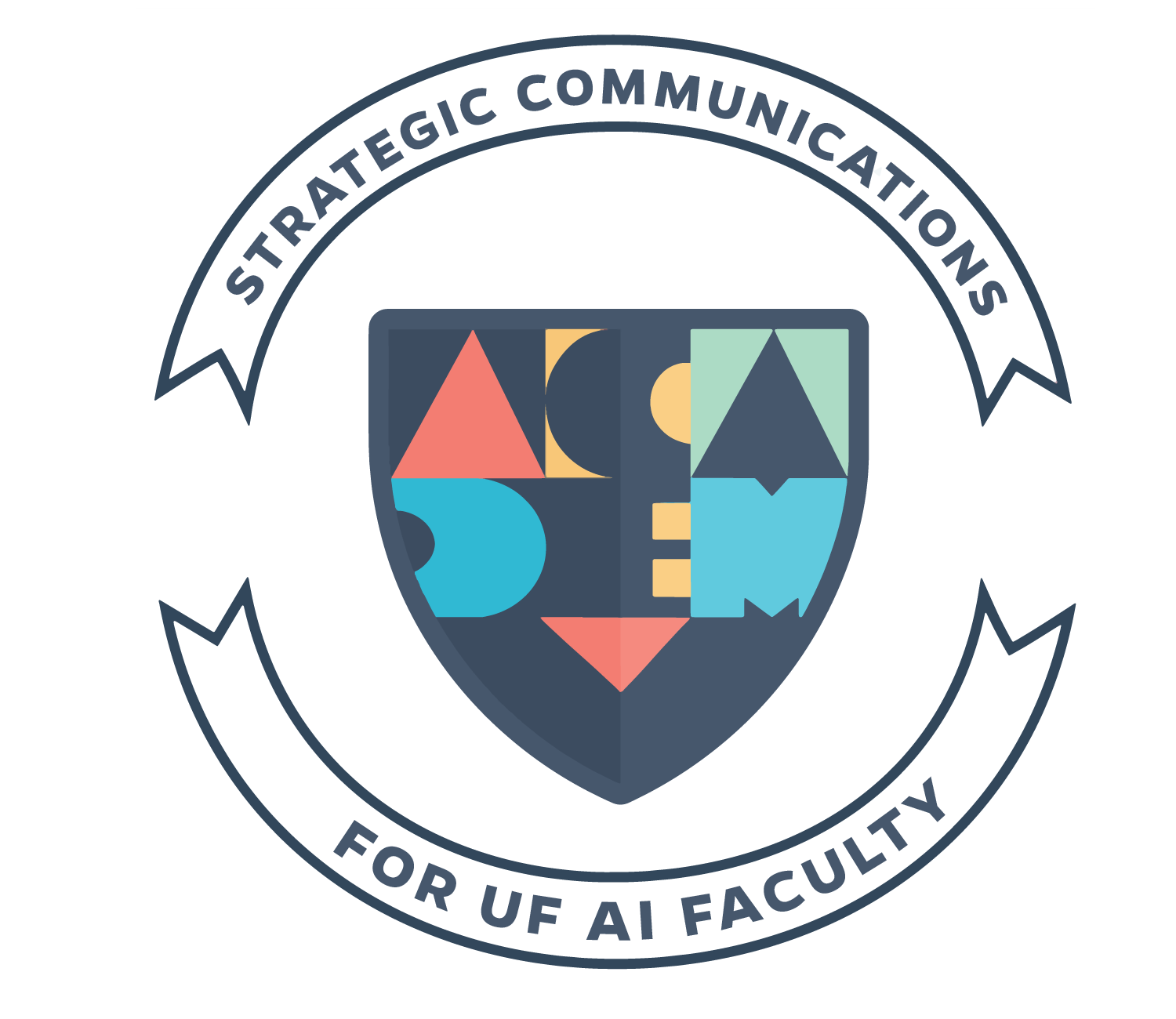 Sign up for the Science Communications short course and take your communication skills to the next level!
Application due: Jan. 12, 2024

Join Us and Develop Your Skills
Communication is vital to the scientific process. Our online Science Communication short course is designed to equip you with the essential skills to convey your research to diverse audiences confidently. Learn to take a narrative approach to your outreach work and apply evidence-based communications strategies. Discover a cognitive approach to data visualization, uncover your stories, prepare and deliver presentations with purpose and learn how to work with journalists and policymakers. 
The course is open to all UF scientists, researchers and science communicators. Sessions are 3-hours long and take place live and online every other week over the spring semester. 
Don't miss this opportunity to elevate your science communication game and inspire positive change.  Enroll in our online Science Communication short course today and become a confident, strategic and influential communicator.
Who should take this course:
UF scientists, researchers, lab members, post-docs or science communicators
Skills you will learn include:
Convey research to people with different expertise

Present with confidence and pride

Share data through visualizations that are memorable, compelling and credible

Use stories to increase understanding and recall

Create a summary of your research and incorporate story

Understand how to connect with and learn from people who can benefit from your research

Learn to work with journalists to help them report accurately on your work

Learn to build your influence with potential collaborators, funders, journalists and others

Communicate to overcome uncertainty and misinformation
Earn your digital credential
After successfully completing the course, you will earn a verified digital credential for the Center for Public Interest Communications. Credentials provide peers and employers concrete evidence of what you had to do to earn your credential and the skills you've acquired. Attendance for all sessions is required to earn the digital credential in Science Communications at the end of this course. If you have an unexcused absence, you can still complete the course but will not receive the credential.
Sign up today. Application Due: January 12, 2024
Program Schedule
Program participants will meet online in person twice monthly (September -December 2023). The 3-hour sessions are designed to
SESSION TOPICS
DATE/TIME
The science of communicating about science


Building support for your work starts with helping others understand it.  In this session, you'll learn the six building blocks of communicating effectively about complex and abstract ideas.



2/8/24– 9:30 a.m. to 12:30 p.m.
Strategy for science
Connecting with funders, journalists and collaborators can feel overwhelming and distracting. In this session, you'll learn to concentrate your efforts where they can have the greatest effect.
2/22/24 – 9:30 a.m. to 12:30 p.m.
Science of story
Stories are the best tools we have for helping people understand and remember complex ideas. In this session, you'll learn the seven elements of stories that build understanding and inspire others to act.
3/7/24– 9:30 a.m. to 12:30 p.m.
Presenting with purpose


Learn the secrets to creating and delivering compelling presentations.



13/28/24– 9:30 a.m. to 12:30 p.m.
The essential rules of effective data visualization


Data is fundamentally abstract and challenging for the human mind to comprehend. In this session, we'll share science-based principles for sharing data and developing visualizations that help others comprehend your work.

4/11/24 – 9:30 a.m. to 12:30 p.m.
Building your influence
Build your reach and credibility with journalists, policymakers and funders. Learn to work with the media, navigate a conference, and increase public scholarship. 
4/25/24 – 9:30 a.m. to 12:30 p.m.
Story slam and graduation
In-person meetup to share stories and celebrate successful course completion
5/2/24 5:30 pm
Program Faculty
The Science Communications course is led by faculty and staff in the Center of Public Interest Communications in the College of Journalism and Communications. The team have deep expertise in research, strategy, pedagogy and media, and sessions will be driven by recent insights from psychology, sociology, and communications scholarship. The team also has substantial experience in live online teaching and incorporates important active learning methods to enhance the program.
Ann Christiano, MPAP
Director, Center for Public Interest Communications and clinical professor in the public relations department at the University of Florida's College of Journalism and Communication
Ellen Nodine, MAE
Director of Programs and Training, Center for Public Interest Communications, College of Journalism and Communications
Matt Sheehan, MBA
Managing Director, Center for Public Interest Communications and Journalism Faculty at the College of Journalism and Communications
Check out the program team bios to learn more about the instructors.
Eligibility
Applicants must be UF scientists, research or science communicators
Applicants must have support from their supervisors
"The course provided me with a structured framework for sharing my research with stakeholders, such as older adults, their caregivers, academic colleagues, industrial partners, and policymakers, and opportunities to learn from each other in our cohort. I have already applied what I learned to three presentations: one for community engagement, one for science conferences, and one for public advocacy. Such a valuable and great journey!"
Hongwu Wang, UF Assistant Professor And Director, Technology For Occupational Performance (TOP) Lab
Program Cost
The cost for the six sessions is $1,395. All materials and facilitation fees are included. The fee will not be refunded once you have been accepted to the program and attend the first session.
Contact
If you have questions about the Science Communications Short Course, please contact:
Ellen Nodine, M.A.E.
Director of Programs and Training, Center for Public Interest Communications, College of Journalism and Communications
352-273-1098 | enodine@jou.ufl.edu
Program Application
The application is open now through January 12, 2024