Strategic Communications Academy for UF Leaders & Scholars
Program Schedule | Program Faculty | Eligibility | Program Cost | Program Application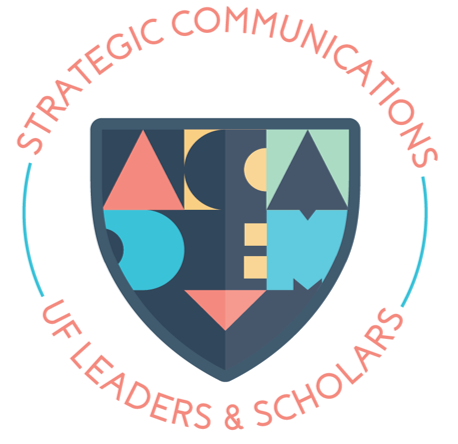 UF's College of Journalism and Communications and UF Training & Organizational Development are pleased to offer a unique professional development program for faculty and staff ready to take their communication and leadership skills to the next level.  Designed for UF employees working to advance positive change in academic or professional areas of interest, this program will help participants:
Build and manage relationships with the individuals and organizations crucial to helping them achieve their goals
Hone storytelling skills to inspire support for a department's mission and vision
Create a strategic communications framework
Develop thought leadership in their fields of study
Use design thinking and systems thinking to create meaningful calls to action
Communicate inclusively to build connections with diverse audiences
Create memorable and compelling TED-style presentations
Facilitate high-stakes meetings with "influentials" such as high-level administrators, policy makers, and funders
Interact with the news media to build credibility and call people to action
Think quickly in challenging communication scenarios
Program Schedule
Program participants will meet once a month (September 2021 to March 2022) for engaging learning activities, coaching sessions with UF communications experts and professional networking. Participants will complete a final project that helps them solve specific challenges and applies what they have learned in the program. This will be an in-person cohort with all classes are scheduled inside the Career Connection Center in the Reitz Union.
SESSION TOPICS     
DATE/TIME
*The Six Imperatives for Changemakers
Sept 15, 2021 – 9:00 a.m. to 3:00 p.m.
*Building the World We Wish Existed: Systems Thinking & Design Thinking
October 13, 2021 – 9:00 a.m. to 3:00 p.m.
*Using the Science of Strategic Communications to Develop a Strategic Communications Framework
November 17, 2021– 9:00 a.m. to 3:00 p.m.
*The Science of Story Building

*Finding Our Stories

December 10, 2021 – 9:00 a.m. to 3:00 p.m.
Building Unforgettable Presentations
How to give a TED-Worthy Presentation
January 13, 2022– 9:00 a.m. to 3:00 p.m.
Coaching Office Hours
(Strategic Communications Framework)
Sign up for a half-hour, 1:1 session
*Building Support for Your Ideas/Anatomy of a Successful Meeting

*Communicating Inclusively

February 17, 2022 – 9:00 a.m. to 3:00 p.m.
Final Project Presentations
March 2022 dates TBA — Scheduled based on participants' availability
Graduation and Social
March 17 – 5:00 p.m.

Program Faculty
Ann Christiano, MPAP
Director, Center for Public Interest Communications and clinical professor in the public relations department at the University of Florida's College of Journalism and Communication
Annie Neimand, Ph.D.
Director of Research, Center for Public Interest Communications, College of Journalism and Communications
Ellen Nodine, MAE
Director of Programs and Training, Center for Public Interest Communications, College of Journalism and Communications
Matt Sheehan, MBA
Managing Director, Center for Public Interest Communications and Journalism Faculty at the College of Journalism and Communications
Check out the program faculty bios to learn more about this team of instructors.
Eligibility
Applicants must be UF faculty members or TEAMS staff members
Applicants must have support from their supervisors
What are people saying about the SCA?

"My favorite part of the Strategic Communications Academy was spending time with my cohort! This was my first experience with so many folks from different disciplines for an extended period of time. The networking and relationships built during the academy is a great opportunity to make connections and create a more enriched campus experience for UF employees. " ~ Alex Avelino, MAMC, Student Affairs Program Coordinator | Pre-Vet Advising, UF College of Veterinary Medicine
"The SCA assisted me with looking outside the box of how I traditionally communicate and explore new innovative ways of inspiring the audience. The pandemic challenged us all, in the way that we were used to communicating and telling stories. The SCA instructors were able to transition, without warning and the ability to plan ahead, to an online format and give us an amazing experience. I was able to apply the skills I learned immediately. The small group sessions allowed us to exchange creative ideas and form new relationships with campus partners. I highly recommend SCA to anyone interested in discovering a new and advanced way to communicate." ~ Lesa Phillips, Guest Services Specialist, Office of the Provost and Senior Vice President for Academic Affairs
"Participating in SCA this past year has been one of the highlights of my time here at UF.  Communicating and translating our scientific findings for the greater good is one of the most important jobs of public universities.  However, faculty, staff, and administrators are often not well prepared to communicate effectively.  The strategic communication academy team provides this training.  The SCA team worked with me and helped hone my communication skills, focus and refine my ideas and message, and provide me with a toolset that I can apply to my research, my teaching, and my service commitments here at UF.  In addition, by participating in this training, I have been able to network with people all over the UF campus and learn more about our campus community.  At the end of this year long training, I published an article that summarized 10 years of my research findings in The Conversation.  My article has now been republished 38 times in outlets including The Washington Post, The Smithsonian, Scientific American, Quartz, Slate, and World Economic Forum. It was translated to French and republished 7 times in French speaking news outlets.  To date, my article has been read over 330,000 times.  I would have never been able to accomplish this without the training and guidance from the SCA team." ~ Dr. Lisa S. Scott, Associate Professor of Psychology
"The SCA has given me new ideas on how to communicate my program of research to colleagues within and outside UF." ~ Dr. Toni Glover, Assistant Professor, College of Nursing
"This class has helped increase my understanding of communication. It's very informative, thought provoking and creates a deeper sense of knowing how to communicate effectively. This class provides you the knowledge needed to make your communication skills STICK! If you are looking to enhance both personal and professional communication skills, this is the course for you." ~ Tanya Hughes, Associate Director, Facilities Services
"Best faculty development program I've participated in…plus it's a lot of fun!" ~ Dr. Mustafa Ahmed, Director, Mechanical Circulatory Support Program,
Cardiovascular Medicine
"The Strategic Communication Academy was a career-changing experience. This was a very practical program; each session included approaches of immediate relevance to my work. Skills learned through the academy impact how I approach creating and sharing vision and also my presentation style. I implemented the project developed through the class within a week of my final presentation." ~ Dr. Melissa Armstrong, Assistant Professor, Department of Neurology
"Through the art and science of storytelling, the Strategic Communication Academy showed me how to invite daring into my work and how I communicate my ideas. Expert facilitators shared indispensable communication strategies that have helped me obtain my objectives. I learned the power of crafted messages, audience analysis and how to prepare an impactful presentation. Masterfully designed learning opportunities and the cohort learner community gave me the time and supportive space to experiment with the tools and techniques. As a result, I found my voice and my professional networked branched in exciting ways; two collaborations are already in the wings! I could not be happier with the SCA process and outcomes. If you want your presentation to be the one everybody talks about at the next conference, or you've got an idea but aren't sure how to gain support, do not hesitate to sign up for the next offering…" ~ Ashley Weser, UFIT Education and Training Program Manager, Academic Technology
"This has been an incredible experience and one of the most valuable workshops I have attended. The instructors are excellent and have helped each of us identify and collect the 'stories' that are important for us to accomplish our goals and mission. I am excited to bring back to my library everything I have learned." ~ Valrie Minson, Chair, Marston Science Library
"The program, instructors, and personal outcomes have moved my research and extension communication to new levels. I am now more purposeful, and I would like to think, more effective at conveying messages and eliciting calls to action. I would recommend the program to anyone who needs to strategically communicate, which should be everyone! Normally I have trouble staying off of my email and away from work for 8 hours of lecture and activities, but all instructors kept me on the edge of my seat. The cooperation and camaraderie you encouraged inspired me to do similar in my classes. I made new friends, developed new collaborations, and feel more inspired to stay at UF and use my voice to make a difference." ~ Dr. Raelene Crandall, Assistant Professor, School of Forest Resources and Conservation
"One of the ways participating in the Strategic Communications Academy is helping me reach my goals at work is the tools. In SCA, we were given many worksheets to help generate ideas and organize thoughts to more effectively communicate. Since being provided these tools, I've been using them consistently. One of the excellent unexpected outcomes of SCA was the camaraderie with our group and housemates. I'm going to miss seeing these folks on a regular basis. When's the reunion? UF faculty and staff should consider taking this program because success is predicated on communication. If we don't challenge ourselves to be the best communicators we can be, our success is limited." ~ Darcie Burde, Director for Fitness & Wellness, UF Department of Recreation Sports
Program Cost
The fee to participate is $1750 (or $4500 for three participants in the same department/college).  All materials and facilitation fees are included with no travel needed for those who live and work in Gainesville, FL.
Program Application
Strategic Communications Academy Application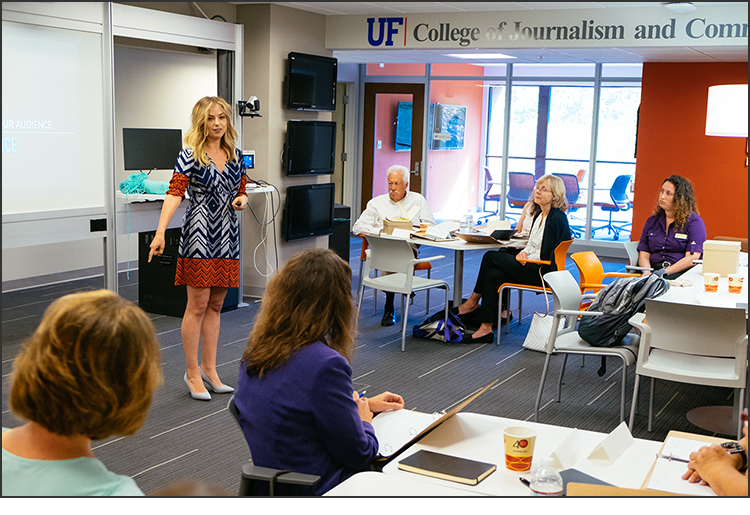 Contact
If you have questions about the Strategic Communications Academy for UF Leaders & Scholars, please contact:
Ellen Nodine, M.A.E.
Director of Programs and Training, Center for Public Interest Communications, College of Journalism and Communications
352-273-1098 | enodine@jou.ufl.edu