"You see things; and you say, 'Why?' But I dream things that never were; and I say, 'Why not?'" ~ George Bernard Shaw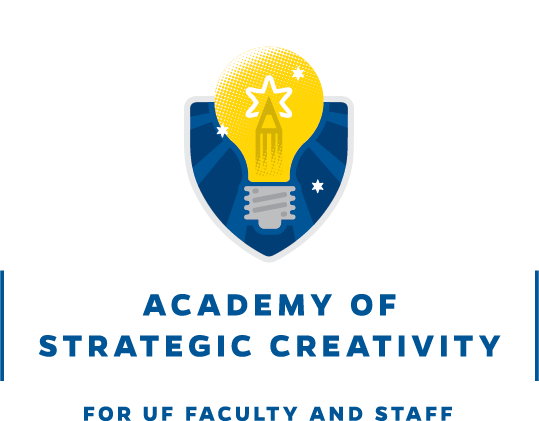 Now accepting applications for the 2019 program
UF's College of the Arts, College of Journalism and Communications, and Training & Organizational Development are pleased to offer a unique professional development program for faculty and staff ready to take their creativity and problem solving skills to the next level.  By combining the talents of various UF creativity experts across a wide range of disciplines, this program supports faculty and staff who want to unlock their creative potential, generate fresh thinking and implement new and powerful ideas for the Gator Good. This program will help participants:
Apply the behaviors, thinking tools and frameworks used by the world's most creative people to imagine and formulate multiple solutions to challenging problems
Recognize and overcome the common barriers that stifle creativity within individuals and organizations
Systematically identify the right problems for you and your team to tackle
Align creativity with strategic thinking
Articulate big challenges in ways that inspire and motivate others
Implement best practices for generating creative and innovative ideas within a group dynamic
Strengthen ideas through effective prototyping, testing and reflecting
Take advantage of various creativity resources on campus to elevate the quality, impact, and reach of their work
Formulate an executable plan for launching an innovative solution
Communicate ideas to achieve buy-in, generate partnerships, and drive results
Program Schedule
Program participants will meet once a month (May to November 2019) for engaging learning activities, coaching sessions with UF creativity experts and professional networking. Participants will complete a final project that helps them solve specific challenges and applies what they have learned in the program.
Session Topics
Date/Time
What is Creativity?

The Psychology and Mechanisms of Creative Thinking

May 21 – 9:00 a.m. to 4:00 p.m.
Processes and Pathways for Unlocking Your Creative Potential

Design Thinking Intensive

June 20– 9:00 a.m. to noon
Strategic Creativity

Unleashing the Creativity of Your Team

July 18 – 9:00 a.m. to 4:00 p.m.
Followed by after-hours social
Creative Project Workday

Innovation and Prototyping

August 15 – 9:00 a.m.
to 4:00 p.m.
Leveraging Creativity Resources on Campus
(Guest Speakers)

Project Review and Feedback

September 18 – 9:00 a.m. to 4:00 p.m.
Ideas to Action

Communication Skills to Drive Results

October 10 – 9:00 a.m. to 4:00 p.m.
Final Project Presentations
November project presentations Dates TBA
Graduation and Social
November 14 – 5:00 p.m.
"If you want something new, you have to stop doing something old." ~ Peter F. Drucker
Program Faculty
Amy Bucciarelli, MS, ATR-BC, LMHC
UF Creative Engagement Liaison
Lecturer, Center for Arts in Medicine

Jim Harrison
Creative Director, The Agency
Lecturer, College of Journalism and Communication

Scott Blades, M.Ed.
Assistant Director, UF Training & Organizational Development
Check out the program faculty bios to learn more about this team of instructors.  Based on participant input, this program will also feature a diverse group of guest speakers during session 5:  Leveraging Creativity Resources on Campus.
Eligibility
Applicants must be UF faculty members or TEAMS staff members
Applicants must have support from their supervisors
Program Cost
The fee to participate is $1590.  All materials, facilitation fees, and meals are included with no travel needed for those who live and work in Gainesville.
Program Application
Participants are selected via a competitive application process
New deadline for 2019 program:  April 15, 2019
Applications will be considered by the Academy of Strategic Creativity Selection Committee, with selection being announced later this spring
Contact
If you have questions about the Academy of Strategic Creativity, please contact:
Scott Blades, M.Ed.
Assistant Director, UF Training & Organizational Development
352-273-1765 | sblades1@ufl.edu
"Imagination is the uniquely human capacity to envision that which is not; it is the foundation of all invention and innovation." ~ J. K. Rowling