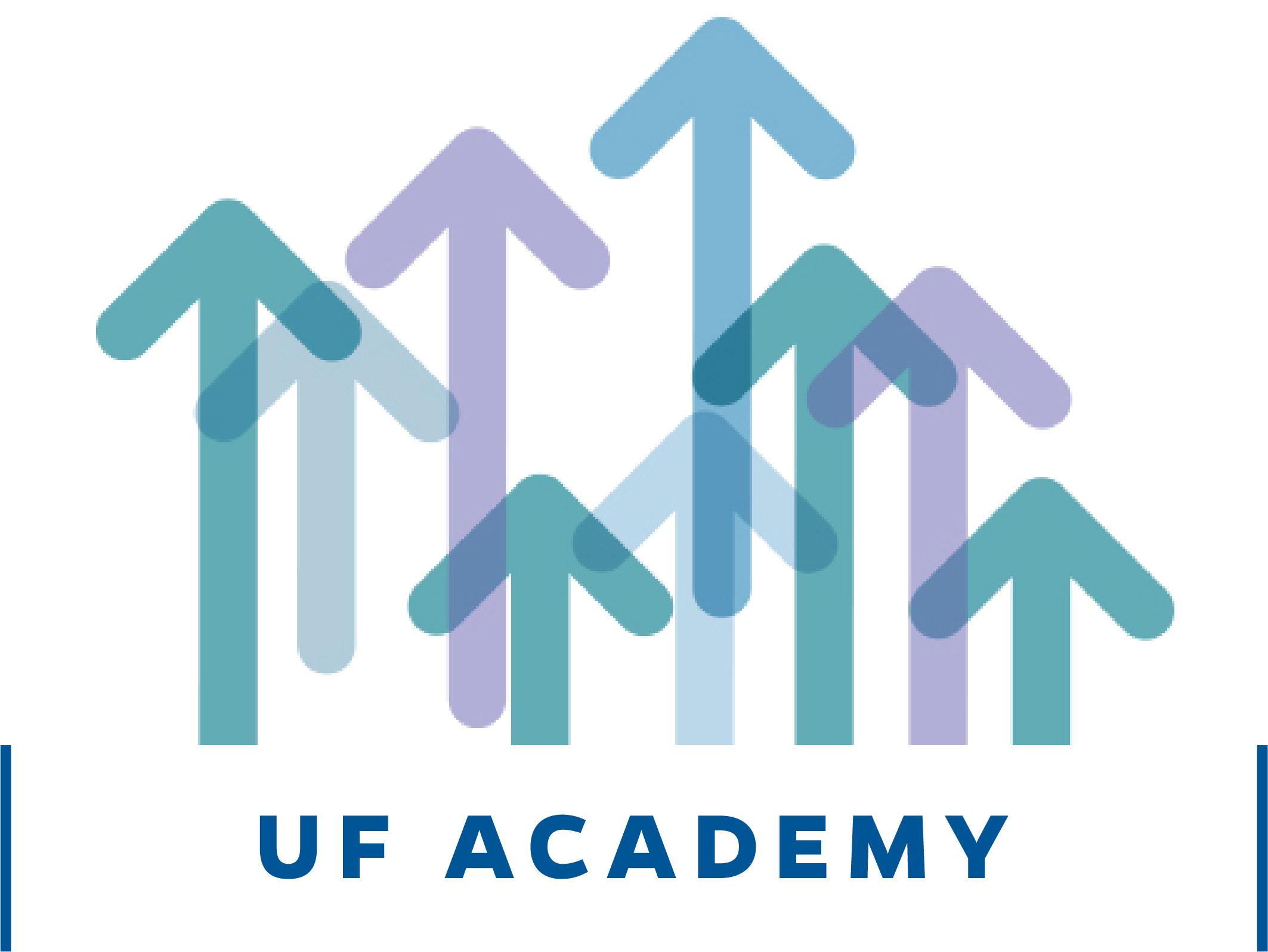 Please note:
Applications are currently closed
Participants are selected via a competitive applicant process
The Emerging Leader: The UF Academy
This leadership program selects participants through a competitive application process. Each spring the process opens up for the next academic year and applications are considered by the UF Leadership Development Selection Committee.
Designed by Human Resource Services, this 9-month program is for emerging leaders who are interested in learning more about the structure, governance, and culture at the University of Florida. Navigating our complex and ever-changing environment is crucial to leadership influence. UF Academy provides a unique, behind-the-scenes, view of our institution by immersing participants in the university culture and interviewing members of the President's Cabinet about leadership development strategies and approaches.
UF Academy is designed for exempt faculty and TEAMS professionals.  TEAMS professionals must have a minimum of two years of supervisory or decision-making responsibilities at UF unless they are at assistant director or above.  All interested faculty may apply.
Program Components
This program has four key areas related to developing leadership competencies identified as being important for success at UF. We use our Competency Model as the foundation for developing skills; participants are immersed into the UF culture through interviews with leaders, both on campus and at the state level in Tallahassee. We build self-awareness through reflection, a 360-degree multi-rater assessment tool, and a leadership development plan. The participants form bonds with each other, building community and their social infrastructure through team-building activities.
The program meets monthly, from 4-12 hours, depending on the scheduled activities. Since our participants have varied teaching, clinical, and administrative responsibilities, each year the cohorts determine through consensus process their common meeting schedules.
Participant Criteria
Candidates for the UF Academy must meet the following criteria:
Support from immediate supervisors including protected time for monthly activities
Satisfactory performance reviews and attendance records
Two years in a supervisory or decision-making role at UF; waived for those at the assistant director level and interested faculty
Be willing to adjust personal and professional schedules to attend monthly meetings and activities
Fee to participate
This year, the fee to participate is $500. All materials (including a 360-degree evaluation pre- and post-program), facilitation fees, and meals included when travel extends outside of Gainesville.
Selection Committee
Frank Bova

Past Chair, UF Faculty Senate

Jodi Gentry

Vice President for Human Resource Services

Chris Hass

Associate Provost

Diane McFarlin

Dean, College of Journalism and Communications

Elaine Turner

Dean, College of Agricultural and Life Sciences
---
UF Academy 2018-2019
Amber Allen-Ingram, Financial Analyst II, CFO Office/University Budget Office
Karen Dooley, Director of Communications, College of Medicine
Kyriaki Kaplanidou, Associate Professor, Tourism, Recreation and Sport Management
Leela Kumaran, Research Coordinator II, School of Teaching & Learning, College of Education
Bobby Lee, Assistant Director, Operations UF Small Animal Hospital, College of Veterinary Medicine
Cydney McGlothlin, Project Manager III, Planning, Design and Construction
Cynthia Mendoza, HR Manager UF Human Resources
Kiran Motaparthi, Assistant Professor and Associate Residency Program Director, Department of Dermatology
Carree Musgrove, Assistant Director, Administrative Services Extension Administration, Business Services
Laura Quintana, Academic Program Specialist II, Department of Physical Therapy
Ying Zhang, Application Developer Analyst 4, UFIT Research Computing
UF Academy 2017-2018
Jennifer Andrew; Assistant Professor; Department of Materials Science and Engineering
Brian Ausgood; Sergeant; University of Florida Police Department
Brian Danforth; Director of Development and Alumni Affairs; College of Education
Martie Gillen; Assistant Professor; Department of Family, Youth and Community Sciences
Keith Gouin; Director of Finance; UF/IFAS Extension Administration
Miyuki Hall; IT Analyst III, Enterprise Systems; UFIT
Nicola Heredia; Assistant Director; Procurement Services
Carol McAuliffe; Associate University Librarian; University Libraries
Alisha Mitchell-Roberts; Associate Director, Research Administration; CTSI-SECIM
Caryn Plummer; Associate Professor; Small Animal Clinical Sciences
Janette Rawls; Employee Relations Specialist III; Housing and Residence Education
Dustin Stephany; Sustainable Building Coordinator; Planning, Design & Construction
Allison Vitt; Communications Coordinator; Office of Sustainability
Katherine Vogel Anderson; Clinical Assistant Professor; UF College of Pharmacy
UF Academy 2016-17
Sheila Austin; Administrative Coordinator, IRB03
Ines Aviles-Spadoni; Research Coordinator III, Department of Civil & Coastal Engineering
Tammy Bleeker; Pediatric Medical Education Manager, College of Medicine
Melissa Allen; Director, UF Online Enrollment Services, Enrollment Management
Roland Estrella; Manager, Clinical Research, Health Outcomes and Policy, College of Medicine
Cynthia Futral; Associate Director, Accounting; College of Law
Hal Grieb; Emergency Management Coordinator, Emergency Management
David Jennings; iDigBio Project Manager, Florida Museum of National History (NH-Ichthyology)
Keisha Jones; Employee Relations Manager, Human Resource Services
Briton Summers; Law Enforcement Lieutenant, UF Police
Stacey Willenborg; Director of Corporate Relations, Warrington College of Business
Sandra Gonzalez; Assistant Professor Medical Director CSC, Anesthesiology
Trysh Travis; Associate Professor, Women's Studies, CLAS
UF Academy 2015
Mike Barsaleau; Director of Facilities; Office of Development and Alumni Affairs
Cathy Carr; Director, Alumni and Career Services (Asst In); Dean's Office; College of Agricultural and Life Sciences
Amy Jo Coffey; Associate Professor; Telecommunication; College of Journalism and Communications
Jason Ferrell; Professor (ASO CHAIR & PROF); Agronomy – IFAS
Krista Fields; Director of Faculty and Academic Support (ACADEMIC SUPP SVCS, CRD 2); Faculty and Academic Support; College of Law
Audrey Geoffroy; Senior Director of Data Services (UFF Employee); Office of Development & Alumni Affairs
Julie Henderson; Director of Technology, Communications, International Relations (EDUC/TRAINING PROGS, CRD 1); P.K. Yonge; College of Education
Ann Horgas; Associate Professor; Department of Biobehavioral Nursing Science; College of Nursing
Jack Judy; Director and Professor; Nanoscience Institute for Medical and Engineering Technology
David Lucier; Assistant Director; O'Connell Center; Business Affairs
William McGinn; Assistant Director; Business Services Division; Business Affairs
Barbara Sedesse; Associate IT Director; UFIT
Keith Stanfill; Engineer and Director, IPPD Program; Engineering Innovation Institute; College of Engineering
Nicole Stedman; Associate Professor; Agricultural Education and Communication; IFAS
William Strnad; Coordinator, Budget & Finance (BUSINESS SERVICES, CRD 3); Office of the Vice President, Business Affairs
Brijesh Thapa; Professor; Tourism, Recreation and Sport Management; College of Health and Human Performance
Alicia Turner; Business Relationship Manager; Enterprise Systems; UFIT
Alvin Woodbury; IT Manager; TSS, UFIT
UF Academy 2014
Kent Berg; Assistant Professor; Department of Anesthesiology; College of Medicine
Melissa Blouin; Director of News and Publications; UF Health Communications
Angela Brown; Communications Manager, Human Resource Services
Ronnie Cooper; Coordinator 3; IFAS Facilities Planning
Stacy Ellis; Associate Director; Baby Gator
Chris Hass; Associate Professor; Applied Physiology and Kinesiology; College of Health and Human Performance
Cindy Heesacker; Administrative Services Coordinator 1; Department of Psychology; College of Liberal Arts and Sciences
Amanda House; Clinical Associate Professor; Large Animal Clinical Sciences Department; College of Veterinary Medicine
Kelly Jordan; Assistant Professor and Director; UF Training Reactor; Materials Science and Engineering; College of Engineering
Thomas Livoti; Director; Network Services; UFIT
Joseli Macedo; Chair and Associate Professor; Department of Urban and Regional Planning; College of Design, Construction and Planning
Juan Nino; Professor; Materials Science and Engineering; College of Engineering
Daniel Sanetz; Coordinator 2, Administrative Services; College of Veterinary Medicine
Aimee Struk; Clinical Research Coordinator (Coordinator 3); Department of Orthopaedics and Rehabilitation; College of Medicine
UF Academy 2013
Stephen Anton, Assistant Professor and Interim Chief, Aging and Geriatric Research, College of Medicine
Shalon Buchs, Clinical Assistant Professor, School of Physician Assistant Studies, College of Medicine
Craig DeGarmo, Division Administrator; Nephrology, Hypertension, and Renal Transplantation; College of Medicine
Luisa Echeto, Clinical Associate Professor and Director, Department of Restorative Dental Sciences, College of Dentistry
Anne-Marie Hollingshead, Senior Accountant, UF Libraries
Nicole Iovine, Assistant Professor, Division of Infectious Disease and Global Medicine, Department of Medicine, College of Medicine
Kelly Jacoby, Research Administrator, Division of Sponsored Research
Michele Manuel, Assistant Professor, Department of Materials Science and Engineering, College of Engineering
Cathy Martyniak, Audiovisual Archivist, Special Collections, UF Libraries
Shane Massey, IT Senior/Application Support Manager, Enterprise Systems, UFIT
Charles Nelson, Assistant Director of Data Management, Institutional Planning and Research
Julie Neubig, Benefits Manager, Human Resource Services
Victoria Peprah-Asante, Coordinator 3, Accounting, Payroll and Tax Services, Finance and Accounting
Philip Pharr, Executive Director, Gator Boosters, University Athletic Association
Eric Segal, Education Curator of Academic Programs, Harn Museum of Art
Rasa Williamson, Manager, Continuing Medical Education, Faculty Group Practice, College of Medicine
2012 class
Brian Berryman, Coordinator 3, Administrative Affairs, College of Medicine
Rhondafay Brazil-James, Assistant University Registrar, University Registrar
Elayne Colon, Assistant Scholar, Director of Assessment and Accreditation, College of Education
Chelsea Dinsmore, Assistant University Librarian, International Documents, UF Libraries
Todd Fraser, Associate Director, Medical/Health Admin, College of Nursing
Dieter Haager, Coordinator 3, Accounting, College of Veterinary Medicine
Sheri Holloway, Assistant Director, College of Veterinary Medicine
Iskande Larkin, Research Assistant Professor, College of Veterinary Medicine, Aquatic Animal Health
Terry Moore, Coordinator 4, Accounting, College of Engineering
Stephanie Nielsen, Coordinator 2, Budget, Office of the Vice President and Chief Financial Officer
Irina Olsen, Assistant Director, Health Outcomes and Policy, College of Medicine
William Smith, Coordinator 4, Senior Project Manager, UF Facilities Planning and Construction
Bradley Spatz, IT Senior, Enterprise Data Services Manager, Enterprise Systems, UF IT
Patricia Xirau-Probert, Clinical Assistant Professor, College of Dentistry
2011 class
Scott Blades, myUFL Training Manager, Training & Organizational Development, Human Resource Services
Mallori Cain, Coordinator of Records and Degrees, Office of the University Registrar
David Christie, Associate Controller, University of Florida Foundation
Pam Hightower, Coordinator, Administrative Services, Department of Recreational Sports
Bart Knowles, Police Lieutenant, University Police Department
Ruth Mckoy Lowery, Associate Professor, School of Teaching and Learning, College of Education
Scot Matusz, IT Director, College of Liberal Arts and Sciences
John McGrath, Director of Development, Warrington College of Business Administration
Daniel Miller, Coordinator, UF Computing and Networking Services
Tracey Phillips, Business Manager, College of Health and Human Performance
Shari Robinson, Assistant Director/Clinical Assistant Professor, Counseling and Wellness Center
Jeremy Sibiski, Assistant Director, Administration, Department of Medicine
Evelyn Straka, Exchange Coordinator, UF International Center
Brandon Vega, Business Applications Manager, Housing and Residence Education
Amber Wuertz, Recruiting Coordinator, Recruitment and Staffing, Human Resource Services
2010 class
Cindy Belknap, Director of Stewardship and Donor Relations, UF Foundation
Adam Boudreaux, Assistant Director, Facilities Planning & Operations, IFAS
Pamela Dickrell, Director UF EDGE and Assistant Engineer, College of Engineering
Jodi Geiger, Assistant Director, Medical/Health Adm, College of Dentistry
Micaela Gibbs, Director, Division of Community Based Programs, Department of Community Dentistry and Behavioral Science
Brenda Harrell, Accounting Coordinator 3, Controller's Office, Finance and Accounting
Susanne Hill, Executive Director, UF International Center
Lauren Garber Lake, Associate Professor, Assistant Director, Graduate Coordinator, School of Art and Art History
Laura Ling, Accounting Coordinator 3, Treasury Management
Allen Masters, Manager, Central Stores and Receiving, Physical Plant Division
Pamela Pallas, Director, Baby Gator Child Development and Research Center
Jonathan Peine, Accounting Coordinator 3, University Registrar
Dawn Riedy, Budgeting Coordinator, Provost and Sr. VP Office
John Sun, Recruitment and Staffing Manager, Human Resource Services
2009 class
Dianna Brook Covington, Accounting Coordinator, Purchasing and Disbursement Services
Lauren Pasquarella Daley, Associate Director for Career Development, Career Resource Center/Student Affairs
Christopher Easley, ERP Infrastructure Manager, Computing and Networking Services
Lynda Fender Hayes, University School Professor, PK Yonge Developmental Research School
Joseph Mandernach, Director of Development, IFAS Development Office
Brook Mercier, Director of Employee Relations, Human Resource Services
Michael Richards, Assistant Director, College of Medicine, Dean's Office
Uma Sethuram, Accounting Coordinator, Office of the VP for Research
Grace Strawn, Accounting Coordinator, Smathers Libraries
Julie (Xiaohui) Wang, Budget Coordinator, CFO's Office
James Webb, Assistant Director, Medical/Health Admin, Oral and Maxillofacial Surgery
Michael Weigold, Professor, Advertising, College of Journalism
Alan West, Controller, UF Foundation
Chris John Whitehurst, Accounting Coordinator, Physical Plant Division
2008 class
Aigi Adesogan, Employee Relations Manager, Human Resource Services
Kenneth Allen, Emergency Management Coordinator, Environmental Health and Safety
Kathy Bergsma, UF Information Security Manager, Computing and Networking Services
Hui Bian, Data Manager and Research Director, Addictive and Health Behaviors Research Institute
Jacob Burks, Assistant Center Director, Oral Biology, Dentistry
Steven Carrico, Chair, Acquisitions and Licensing Department, Smathers Library
Lauren Dukes, Account Executive, College of Journalism—WRUF
Dorothy (Dolly) Haertling, Coordinator, Retirement, Human Resource Services
Andrea Huisden, Assistant Director, Finance, Insurance, and Real Estate— Bergstrom Center for Real Estate Studies
James Lennon, Coordinator, Administrative Services, Chemistry
Connie Nicklin, Assistant Director, Research/Service Programs, Interdisciplinary Center for Biotechnology Research
Melissa Orth, Director, University Relations, Office of the VP for University Relations
Tiffany Schmidt, Assistant Director, Research, Engineering Contracts and Grants
Tracy Brown Wright, Director, Public Relations and Communications, College of Nursing
Vernon Wright, Outreach Financial Aid Coordinator, Student Financial Affairs